In the left hand inset, 'B' indicates the front lip of the mouth. The cutter is sharp. A 0.1mm (0.004inches) shaving is shown passing through the 'shaving aperture'. It rides some distance up the face of the cutter until it is deflected by the curved face of the cap iron. (Actually, a 0.1mm shaving is rather thick for finish work on a hardwood).
It indicates the ideal situation in which a finely-set shaving aperture enables the combined weight of the plane and the user to press downwards upon the fibres of the shaving.
The front lip of the mouth is shown filed by the user to a slight angle from the vertical. The intention is to ease the passage of shavings (usually less well-behaved than the one shown).
The grain is regarded as sloping downwards, ie the plane is working 'against the grain'.It could be called 'reverse grain'.
What appears to happen is that instead of being cut by the edge, the wood rives (splits) ahead of the cutter. It rides up the face of the cutter getting thicker, and therefore stronger, as the plane moves forwards. As it gets stronger the leverage applied by the cutter creates the area of stress indicated. Eventually, the fibres are torn out by their roots and we have the all-too-familiar tears in the wood's surface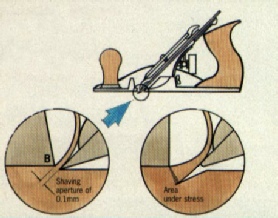 The right-hand insetshows an exaggeratedly wider shaving aperture of about 5mm (0.2inches). Because the image has been doctored to show a blunt cutter, it appears rather higher than it should do.